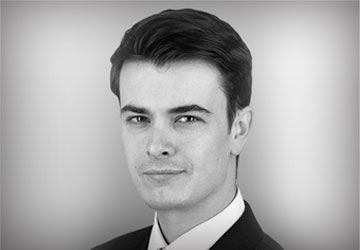 Francis Payne
Barrister
Date of Call: 2014
What others say
I have found Francis to be unreservedly tenacious and pragmatic in court. He has proven on numerous occasions that he will consistently get results. He is conscientious and his courtroom manner, particularly with litigants in person, is excellent
Daniel Norris - Churchers
Best client feedback on counsel I have ever seen
Tim Melville-Walker – Macdonald Oates
We have instructed Francis to represent our client many times at hearings. He has always been punctual and never failed to provide us with an attendance note updating us of hearing with next steps within a few hours! Francis is very passionate and knowledgeable in his work and the area of Family Law - our client's have requested to have Francis represent them at subsequent hearings.
Nikki Ruparelia -Bookers & Bolton
When I was covering for my colleague Francis was very responsive and helpful, as well as proactive and determined to achieve the best outcome for our client.
Sarah French Moore Blatch
Francis represented a nervous client in matrimonial finance proceedings. Francis was able to put the client at ease and gave him a sense of confidence going into court and achieved a positive outcome.
Michelle Noy – Bates Solicitors
Confident with expertise beyond his call
Sarah French Moore Blatch
Francis conduct his cases with great detail and care and is very reliable. He is well prepared and his work is of an exceptional quality and provides a good service for the client
Oi-Yuyn Wong AWD
Francis conducts every case with meticulous preparation and sees cases through with a thorough and efficient approach. Francis makes clients feel at ease with his attentive approach, as well as clearly explaining the options available to clients. Francis is a rising legal star with his professionalism, knowledge and skill.
Alyciette Edwards - AWD
Francis joined Chambers in September 2018. Prior to joining Chambers, Francis was an Employed Barrister within the Strategic Tax Litigation Team at Her Majesty's Revenue and Customs (HMRC), dealing with high-profile litigation in respect of complex tax avoidance schemes. Prior to joining HMRC, Francis enjoyed a successful practice in the areas of Crime and Personal Injury.
Francis is a courageous advocate who strives to secure the best possible results for his clients. Commended for his "valiant submissions" (HHJ) in Court, Francis often demonstrates advocacy skills beyond his year of call. Coupled with this, Francis' background makes him an instant hit with clients, who are reassured by his ability to provide comprehensive legal advice in a straightforward digestible form. Despite only qualifying at the start of last year, his persuasive advocacy has enabled Francis to impress clients across the country and secure fantastic results.
At No 18, Francis has a busy practice in court and on paper across the whole spectrum of chambers' core areas but with a particular interest in general civil litigation and personal injury.
Crime
Francis' started his legal career as a Criminal Defence Barrister (First with a Legal 500 Firm and then with a Leading Criminal Chambers in London). Conducting trials on a daily basis in the Magistrates and Crown Court, Francis developed excellent advocacy skills. Francis' most notable success came when he secured the acquittal of a Defendant in a 'Third Strike Burglary' Trial at The Old Bailey, in circumstances where the Defendant's 60 previous convictions for Burglary were known to the jury.
Francis is on the CPS Panel of Advocates (Level 1) and is happy to receive instructions from the Crown Prosecution Service.
Expertise
Family: Care & Children
Chancery and Commercial
Personal Injury & Clinical Negligence
Employment & Discrimination
No 18 Resolution
Qualifications
LL.B (Hons) Law with Criminology, University of Portsmouth (Upper Second Class Honours)
Bar Vocational Course, City University (Very Competent, graded Outstanding for Civil Advocacy)
Membership
The Honourable Society of Middle Temple (Major Scholar, 2013)
South Eastern Circuit
CPS Panel of Advocates (Level 1)
Young Legal Aid Lawyers Association
Human Rights Lawyers Association
Awards
Queen Mother Scholarship – The Honourable Society of Middle Temple (2013/14)
Publications / Seminars
Contributor - Tools for changing banking culture: FCA are you listening? (Reported in Capital Markets Law Journal and Financial Times)
Personal Info
Outside chambers, Francis' main interests are football (watching his team Leyton Orient lose every weekend), boxing and spending time with his young family. Prior to attending University, Francis was a competitive boxer and competed at County and District Level. Francis received a Sporting Excellence Scholarship from the University of Portsmouth as a result of his achievements within the sport.
Francis is passionate about the provision of legal services to all who require it. His dedication is such that he is the Co-Founder of a Legal Advice Clinic for a London charity, Shelter from the Storm. Keen to promote diversity at the Independent Bar, Francis regularly gives talks to Secondary School and University students about entry into the legal profession.