Events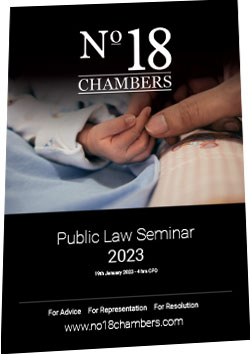 Public Law Seminar 2023
Seminar Start date: Thursday 26th January 2023 - From: 9.30 - To: 3.30
Our Public Law Seminar is aimed at those currently practicing all aspects of Public
Law / Care and Adoption Proceedings and those who are otherwise interested. We are
planning on an informative and relaxed seminar at £35 per person (incl of VAT) for 4
hours' CPD. We will be holding this seminar on 26th January 2023 at Double Tree by
Hilton, Bracken Place, Chilworth SO16 3NG.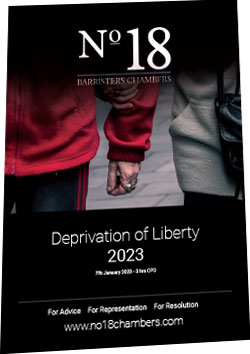 Introduction to Deprivation of Liberty
Seminar Start date: Thursday 16th February 2023 - From: 16.30 - To: 18.00
16th February 2023 from 16.30 – 18.00 (Remote – Via Zoom) - 1.5 hrs CPD
What is a deprivation of liberty? What do you need to know if faced with an application to deprive a child of their liberty, and how does it feed into existing or imminent care proceedings?
Sarah Barber is presenting an introduction to deprivation of liberty cases, with helpful case study examples and an analysis of the law and principles for practitioners to be aware of when dealing with or responding to these applications on behalf of a local authority, parent, or child.
1.5 hours CPD For further information about the seminar please contact our Clerks No18 Chambers, 21 Carlton Crescent, Southampton, SO15 2ET.
Tel: 02380 736812 Email: clerks@no18chambers.com


Past Events & Seminars