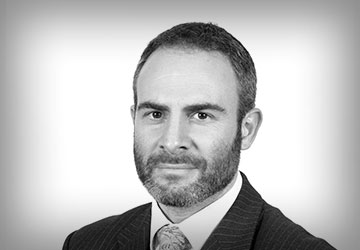 Robin Shane
Barrister
Date of Call: 2010
What others say
We have instructed Robin regularly over the last two years. Since the first instruction he has provided impeccable service to his instructing solicitor and the client. Robin's approach to client care is second to none, he listens to the client's needs and provides exceptional advice, this results in clients trusting and respecting him. Robin's advocacy skills are excellent and his attention to detail is to be commended. We highly recommend Robin to others.
Emma Sanders K J Smith
I was very impressed with Mr Shane and I could not have asked for a better barrister to be represented by.
Clarke & Son
I have had the pleasure of instructing Robin on a few occasions since my qualification. Robin's calm and approachable mannerism with clients makes him instantly popular with them, and when issues are complicated he provides incredibly clear, pragmatic and down to earth advice. Clients are consequently able to understand to a greater extend complicated issues that would otherwise be difficult to follow. As a result Robin has set the standard in instructing counsel for me and he is a 'go to' barrister for any private children or domestic abuse matter.
Daniel Norris – Churchers Solicitors
Robin is a specialist family law Barrister who is authorised to practice by the Bar Council and is regulated by the Bar Standards Board. He has a right of audience in every court in England and Wales. 
Robin is a former Royal Marine and served on operations around the world. He later became a police officer with the Thames Valley police, which sparked his interest in law. He graduated from Oxford Brookes University with a First Class Honours Degree (LLB), achieving the highest degree classification of his academic year.
Robin joined Chambers in 2012. However, he has also practiced as in-house counsel with a prominent firm of solicitors and has extensive litigation experience.
He brings a depth of life experience to his practice. He is able to offer exceptional client care, combined with pragmatism and sound legal judgement.
Robin undertakes public access work and appears on the Bar Council Public Access Register. This allows members of the public to instruct Robin directly, without having to go through a solicitor (although Robin also accepts instructions from solicitors in the traditional way).
You can find out more about how to instruct Robin on a Direct Public Access basis at: https://www.no18chambers.com/no-18-direct
Please also see the Bar Council's explanatory document on instructing Public Access barristers: https://www.barstandardsboard.org.uk/uploads/assets/20f0db2a-a40c-4af9-95b1b9557ad748e9/Public-Access-Guidance-for-Lay-Clients.pdf )
Examples of the family law work Robin often undertakes:
Providing advice and direction on legal issues, both before and during court proceedings
Drafting legal documents and letters on behalf of clients
Representing clients at court
Providing advice and representation on appeals
If you would like to discuss instructing Robin, please contact his clerking team on 02380 736812 – or by email: clerks@no18chambers.com
Expertise
Family: Care & Children
Contact and Residence disputes under the Children Act 1989
Robin has particular expertise in dealing with cases involving children, after their parents have separated. This often involves disputes over where children should live; how much time they should spend with each parent and/or other members of their family; Parental Responsibility; changing children's names; children's education; their religious up-bringing; parents relocating to another part of the country or abroad; taking children out of the country for holidays; what happens to children if one or both parents die; children witnessing/experiencing domestic abuse and cases concerning children with special needs.
Robin is regularly instructed to represent Children's Guardians appointed under FPR 2010 r16.4.
He has also represented grandparents in a variety of applications.
Robin's wider life experience enables him to offer exceptional support to his clients. He is able to 'think outside the box', quickly identifying practical solutions to resolve family disputes and avoid protracted legal proceedings.
---
Domestic violence & injunctions
Robin has represented many clients (both male and female) in cases involving domestic abuse. He regularly deals with applications for injunctions under the Family Law Act 1996, such as non-molestation orders and occupation orders.
---
Public Law / Care and Adoption Proceedings
Robin is an experienced Public Law advocate. He has dealt with cases involving allegations of neglect; non-accidental injury; physical and sexual abuse; mental health; drug and alcohol issues and cases with a multi-jurisdictional element.
He has also dealt with matters concerning Special Guardianship and contact with children in care.
---
Qualifications
Oxford Brookes University - LLB First Class (Hons)
College of Law - BVC Very Competent
Membership
Affiliate member of Resolution
Inner Temple
Awards
Otto Rix Prize – Inner Temple (2011)
Major Scholarship and Duke of Edinburgh Scholarship – Inner Temple (2010)
Blake Lapthorn Tarlo Lyons Prize for 'Best Academic Achievement' - Oxford Brookes University (2009)
Personal Info
Robin enjoys foreign travel whenever possible. He continues to pursue his passion for adventure sports and is a keen ultra-distance runner.